Nyoptics Inc 2014 - 2017 All rights reserved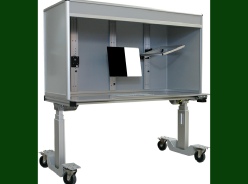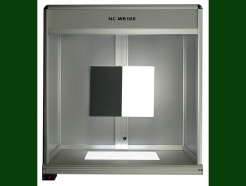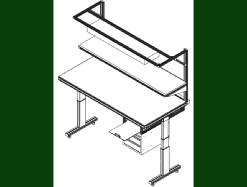 ErgoVu-30®
Table-Top / Wall Mount Booth
Compact design based on our full size ErgoVu-60 inspection booths. Table Top, Motorized and manual wall mount lift options. One of our most popular models
ErgoVu-50® / ErgoVu-50C
Designed to meet the USP-790 spec Two standard models; ErgoVu-50 and ErgoVu-50C compact footprint version. Dual LED topside illuminators offer >15K Lux output at inspection surface. Customizable sizes to your specification.
ErgoVu® Ergonomic Inspection Booths - MIB
Nyoptics has designed and built a wide range of ergonomically designed manual inspection booths for pharmaceutical visual inspection and work tables for general tasks. We have been manufacturing our custom designed, Made in USA inspection stations since 2005. They are in use at major pharmaceutical and biomedical companies world-wide and have a proven extremely high reliability record.

The inspection systems and tables provide optional motorized adjustable height table surfaces with radiused front edges for operator comfort and efficiency. The motorized motion is quiet and smooth, allowing operators to find the correct working position to eliminate fatigue. All systems are designed and built in the USA using only the finest materials for a long operational life.

We can provide an ergonomic specialist that can work with your company to provide the best solutions for the operator tasks and reduce or eliminate expensive workman comp claims.

We offer many optional accessories to complete the package, from LED custom lighting to microscope and optical systems for inspection, rework, and micro-assembly tasks. We can also custom build stations to fit your needs.
Pharmaceutical

Biomedical

Semiconductor

Micro-assembly
Re-work

Cleanroom applications
Ideal choice for:
ErgoVu-60®
Designed for maximum ergonomic product inspection. Table surface motorized for heights of 25" - 52". Clean room designed using finest quality components. Options of top/bottom, bottom only, top only LED illumination. Long life, low energy design.
LED High Intensity Column Illumination
- TOP and/or BOTTOM lighting options
- Fully adjustable regulated output with µFine intensity controls
- Non-glare design for operator comfort
- Earth friendly light source, no mercury (as used in fluorescent designs)
- Low energy use, Long consistent life
- Highest quality, color matched HB-LED's; approx. 5000°K color temp
CLEAN ROOM compatible materials and surfaces
- Modular high strength aluminum framing
- Aluminum sound deadening enclosure panels
- Durable grey neutral powdercoat finishes
- Corian® type material table surfaces;
optional stainless steel or hard-anodize
aluminum surfaces (ErgoVu-60, ErgoVu-30)
- HP laminate 50/50 Black/White
optional all black (ErgoVu-50, ErgoVu-50C)
ERGONOMIC user design
- Black/white contrast plate with vertical position control; telescope,tilt options
- Reject tray holder for left and right side with vertical position adjust (ErgoVu-60)
- Motorized table height 26" - 52"; silent, smooth motion (Standard ErgoVu-60)
Built to last - only top quality components
-

Made in USA


- Customizable to meet your requirements
Custom Work Stations
We can design and build work stations to improve operator ergonomics and efficiency. Motorized lift options, illumination systems, tool holders with a wide range of surface and framing materials suitable for production areas and cleanroom use.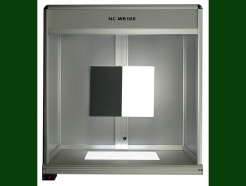 Conformal Coating Inspection
Our inspection booths can be configured with UV spectrum LEDs for inspection of PC board conformal coatings. Magnifier optics can be mounted as well as white light LEDs and cameras for a complete inspection solution.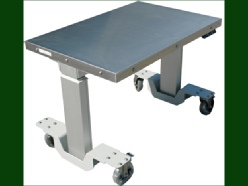 Motorized Lift Tables
Designed to be companion products to the inspection booth offering identical lift range 25"-52". Precision locking, smooth rolling casters. Solid build of aluminum and stainless steel. Customize sizes to your specification.
Motorized lift upgrade (ErgoVu30, 50)

Advanced Operator Interface

Wide-field illumination

High Output Illumination

Digital Illumination Control

Enhanced Cleanroom Specification