Nyoptics Inc 2014 - 2017 All rights reserved




ErgoVu-60 Ergonomic Manual Inspection Booths

IB
Nyoptics has designed and built a wide range of ergonomically designed manual inspection booths for visual inspection and work tables for general tasks. Our custom designed and built stations are in use at major pharmaceutical and biomedical companies and have a proven high reliability record.

The inspection systems and tables provide adjustable height table surfaces with radiused front edges for operator comfort and efficiency. The motorized motion is quiet and smooth, allowing operators to find the correct working position to eliminate fatigue. All systems are designed and built in the USA using only the finest materials for a long operational life.


Our inspection booths can be custom configured to meet your exact requirements of light output and spectrum. Illumination intensity is variable with micro-adjusters for precise light levels. The constant current design maintains consistent color temperature and assures long LED life.
Our LED illumination system saves energy and cost over its long service life using 20% of the power of a typical fluorescent illumination booth and offering up to 40,000 hrs LED life. This reduces the need for constant lamp replacement and significantly reduces the load on your facility HVAC system.
We can provide an ergonomic specialist that can work with your company to provide the best solutions for the operator tasks and reduce or eliminate expensive workman comp claims.

We offer many optional accessories to complete the package, from LED custom lighting to microscope and optical systems for inspection, rework, and micro-assembly tasks. We can also custom build stations to fit your needs.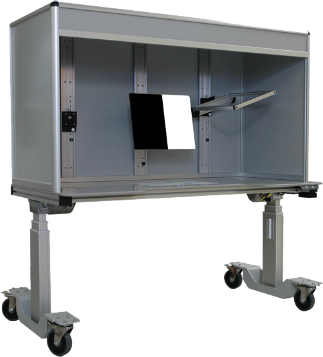 Pharmaceutical

Biomedical

Semiconductor

Micro-assembly
Re-work

Cleanroom applications
Ideal choice for:
Vial inspection and fill laboratories

Scientific laboratories

Biomedical sub-assembly build

Semiconductor FAB

Electronic re-work stations

Education (lower cost Infinity Lite model for entry level education)
LED High Intensity Column Illumination
- TOP and/or BOTTOM lighting options
- Fully adjustable regulated output with µFine intensity controls
- Non-glare design for operator comfort
- Earth friendly light source, no mercury (used in fluorescent designs)
- Low energy use, Long consistent life
- Highest quality, color matched HB-LED's; approx. 5000°K color temp
CLEAN ROOM compatible materials and surfaces
- Modular high strength aluminum framing
- Aluminum sound deadening enclosure panels
- Durable grey neutral powdercoat finish
- Corian® type table surfaces; optional stainless steel or hard-anodize aluminum
ERGONOMIC user design
- Black/white contrast plate with vertical position control; telescope,tilt options
- Optional Reject tray holder for left and right side with vertical position adjust
- Motorized table height 26" - 52"; silent, smooth motion
Built to last - only top quality components used
-

Made in USA


- Customizable to meet your requirements
Ergonomic Motorized Table Booth – bottom only illumination (ErgoVu-60B)
Ergonomic Motorized Table Booth – top only illumination (ErgoVu-60T)
Ergonomic Motorized Table Booth – top and bottom illumination (ErgoVu-60TB)