Nyoptics Inc 2014 - 2017 All rights reserved




ErgoVu-50 USP-790 Manual Inspection Booths
The ErgoVu-50 inspection stations were designed to comply with the USP-790 illumination specification. The ErgoVu-50 is ideal for IV bag inspections; pre-fill and post-fill.

The ErgoVu-50 is available as table-top, wall mount, or mobile motorized lift models. We offer two standard width versions; ErgoVu-50 standard 48" width and our small footprint ErgoVu-50C. All models feature easy access operator controls and radiused front edges for operator comfort and efficiency. The motorized versions motion is quiet and smooth, allowing operators to find the correct working position to eliminate fatigue. All systems are designed and built in the USA using only the finest materials for a long operational life.


The ErgoVu-50 inspection booth models can be further custom configured to meet your exact requirements of inspection area size (depth/width/height), light output and LED spectrum. Illumination intensity is variable with micro-adjusters for precise light levels. The constant current design maintains consistent color temperature and assures long LED life.
Our LED illumination system saves energy and cost over its long service life using 20% of the power of a typical fluorescent illumination booth and offering up to 40,000 hrs LED life. This reduces the need for constant lamp replacement and significantly reduces the load on your facility HVAC system.
We can provide an ergonomic specialist that can work with your company to provide the best solutions for the operator tasks and reduce or eliminate expensive workman comp claims.

We offer many optional accessories to complete the package, from LED high output illumination, wide-field illumination, LED backlite panel, and magnifiers to name a few. Contact us with your requirements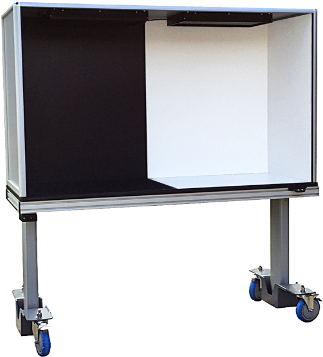 Pharmaceutical

Biomedical

Pre-fill Stations
Post-fill Stations
Re-work

Cleanroom applications
Ideal choice for:
IV Bag inspection and fill laboratories

Scientific laboratories

Biomedical sub-assembly build

Glass component inspection (optional backlight)
LED High Intensity Illumination
- DUAL LED topside illumination
- Fully adjustable regulated output 1K - >15K Lux at table surface (optional High output)
- Non-glare design for operator comfort
- Earth friendly light source, no mercury (used in fluorescent designs)
- Low energy use, Long consistent life
- Highest quality, long-life LEDs; Binned Daylight spectrum (5000°K color temp)
- Optional spectrum LEDs available
CLEAN ROOM compatible materials and surfaces
- Modular high strength matte finished aluminum framing
- Aluminum sound deadening enclosure panels
- Durable neutral grey powdercoat external finish
- HP Phenolic Internal enclosure panels; entire booth 50% black / 50% white matte
- E-Z clean durable chemical resistant non-glare surface
- ErgoVu-50 16"deep x 48"wide x 30"tall
- ErgoVu-50C 16"deep x 38"wide x 30"tall
- Motorized models table top surface height adjusts 25" - 52"
Full-size 16"deep x 48"wide (ErgoVu-50)
Motorized Lift Full-size 16"deep x 48"wide (ErgoVu-50 motor)
Compact model 16"deep x 38"wide (ErgoVu-50C)
Motorized Lift Compact model 16"deep x 38"wide (ErgoVu-50C motor)

ErgoVu-50 Motorized Inspection Booth