Nyoptics Inc 2014 - 2017 All rights reserved




SPZ Series Stereo Zoom Research Microscope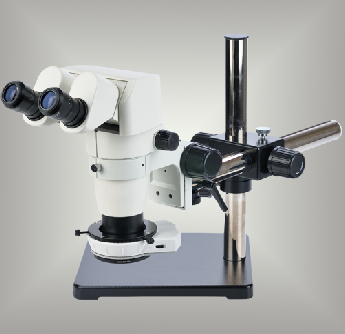 Research grade modular CMO stereozoom microscope system. Available in 6:1, 8:1, and 10:1 zoom ranges.

Semiconductor

Biomedical

Industrial Inspection
Ideal choice for:
Industrial manufacturing

Forensic and police crime laboratories

Biomedical sub-assembly build

General semiconductor inspection

University science laboratories
10:1 Zoom ratio body:

Zoom range 0.8 - 8x

Detents at major magnifications

Common Main Objective (CMO) design

Parfocal and Parcentric parallel optical paths
Wide range of high quality optics options

Ultra-wide field eyepieces

10x/24, 15x/16, 20x/12

Objective choices:

Plan Achromat 1.0x / WD = 183mm

Plan Achromat 0.5x / WD = 183mm

Plan Achromat 0.5x / WD = 183mm

Plan Achromat 1.0x / WD = 183mm

Plan Achromat 1.0x / WD = 183mm
Viewing Head options:

Adjustable ERGONOMIC; 0°- 35° tilt range

Eyetubes rotate 180° for additional 1.5" height

30° long reach binocular

30° trinocular w/integral camera port


The SPZ Research stereo zoom series offers superb optical performance for the most demanding applications. The system is designed using a Common Main Objective and parallel optical system for crisp, distortion-free, high-resolution images. The SPZ series integral zoom/focus body has an anti-static outer finish making it ideal for electronic device inspection. The modular design provides the ability to expand the system capabilities with attachments such as the coaxial illumination system and camera ports. An ERGONOMIC tilt binocular head is available for enhanced user comfort.
We can also provide complete turn-key specialty systems using our wide selection of stands, stages, highly accurate measurement systems, light sources, and cameras to fulfill your inspection needs.

Fluorescence Modules

Specify wavelengths
Multi-objective Adapter :

Allow 2 objectives to be mounted on scope

180° swing away

Does not permit ring light mounting (use gooseneck type illuminator)
Ergo-Extender Block:

Increase optical reach by 3.5"

Raises optics 1.5"

More durable than extended eyepiece tubes

Use for proper ergonomic position

Ideal for large wafer inspection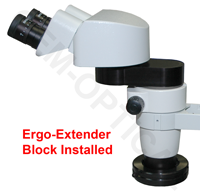 Ergonomic Extender Block
Nyoptics Exclusive!