Nyoptics Inc 2014 - 2017 All rights reserved




Nyoptics Inc is a well established microscope service and repair company. We are factory trained and authorized by Nikon and Olympus. We have been providing all levels of service to California and Nevada areas since 1971. Our business has grown by 'word-of-mouth' advertising – our customers must have been satisfied with our services ...we're still around after 40 years!



Microscope Service and Repair Services
We take great pride in workmanship. We are not 'wipe and swipe' service operators who clean the top lenses, blow off the dust, wipe down the body, and move on to the next microscope.

How do you know if your microscopes are being properly attended to? RESULTS and TIME – it takes time to properly PM a microscope. If the technician is able to service many microscopes per hour they probably aren't being properly serviced. This type of service is referred to as 'wipe and swipe'. We typically take ½+ hour to service a stereozoom (or more if the scope requires it) and 1+ hour for basic compound microscopes. Research models typically take 2-3+ hours depending on the accessories and options on the microscope. We service most models from Olympus, Nikon, Leica/Leitz, Zeiss, Meiji, Labomed, and more. Here are some of the typical procedures performed on each type of microscope: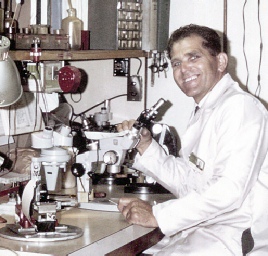 Clean internal zoom optics (except sealed zoom tube models)

Remove old and re-apply, as necessary, lubrication for zoom mechanisms

We use synthetic lubricants that last longer in high airflow areas such as fab/cleanrooms

Clean eyepieces and auxiliary objective lenses

Verify correct optical alignment: parfocality, parcentration, and overall centration

Correct alignment as necessary (may require additional time)
Disassemble down to key component level

Inspect components for wear and damage.

Lubricate and adjust mechanical components of the system

X/Y stage ,coarse/fine focus, brightfield/darkfield controls, viewport and field/aperature/filter controls.

Inspect and clean optical surfaces (objectives, eyepieces, tube(telan) lense, filters, reticles)

Typically needed for fluorescence and metallurgical microscopes

Verify optical alignment using factory provided reference standards

Align illumination light source (halogen, mercury arc, xenon)

Align phase rings on phase contrast models
What do we service? We have been trained on most microscope models from nearly all microscope manufacturers. We are factory authorized OLYMPUS and NIKON, and stock replacement parts for most Olympus and Nikon models. Older and obsolete models are our specialty. We have many repair parts and knowledge for very old models in our inventory.
We can provide repairs for most microscope models. We have documentation and manuals for most microscopes even including older models from the 50's, 60's and 70's. We have been repairing microscopes since 1971 so chances are your model has been seen by our technicians.
We can provide enhanced performance for many microscope models. We offer:
Larger x/y travel stages

Motorized x/y stages

Upgraded lighting options: LED, high power halogen

Added features (such as phase contrast, Nomarski DIC, darkfield)

Camera systems (digital and analog) with software

Measurement upgrades (x/y/z/theta) in a wide range of resolutions
Microscope Service/Repair rates: (repair parts not included)
In-shop rate : $110 /hr + shipping
On-site rates : $155/hr (3 hour minimum portal/portal) + travel (contact us)
On-site contract service : Send us your inventory list for a quotation

Travel rates are based on $0.65/mi from Danville,CA (First 20 miles no charge)

Hours : 8am – 5pm PST (service available all hours: additional charges)
Fixed Rate Repair Services
We are able to provide in-shop services on some models at a fixed rate:
Bausch & Lomb Stereozoom 3-5 models: $205.00 + parts

Olympus SZ3 models: $205.00 + parts (limited parts availability)

Leica GZ6 Zoom gear replacement: $225.00 (new design gear set included)
Physician and Veterinarian Microscope Services
Medical microscopes are serviced on-site for the following rates: (Please note that damaged microscopes and repair parts are extra cost)
General non-research microscope : $225.00 /ea + travel

Research microscopes are $155/hr @ (3 hour minimum portal/portal) + travel

Travel rates are based on $0.65/mi from Danville,CA (First 20 miles no charge)
The microscope will have a 3 month labor warranty from the date the service/repair was performed. Please note that should a problem arise with the microscope during this 3 month coverage period, necessary services will be performed at no labor charge in a prompt manner (the shipping charges are not included in the warranty and would be billable). All parts needed for repairs and maintenance are additional. Exceptions to warranty are for microscope services needed due to abuse, tampering, and drop damage. These are not covered under the warranty and will be quoted and billed separately.
NOTE:
If shipping a microscope for repair please ensure all components are properly protected for shipment. We suggest bubble wrap of the microscope modules (multiple layers), place this in a close fit box, then place this box in a larger box filled on all sides with Styrofoam packing 'peanuts'. This ensures no shifting of the optics during shipment. Do not simply place the wrapped optics in a box of Styrofoam 'peanuts' – damage is almost guaranteed.
Founder - Jacques Nyburg
Fairchild circa 1970

Nikon® Authorized Repair Service Center

Olympus® Authorized Sales and Repair Center
Since 1972