Nyoptics Inc 2014 - 2017 All rights reserved




Slimline 40 LED Ring Light - General Purpose
The Slimline 40 (aka: LED-3000) is our high output LED ring light designed for general microscopy use. The body is a durable molded polymer housing for high impact resistance. The integrated controller design makes for a very compact footprint, ideal for production tools and manufacturing areas. The Slimline 40 contoller uses a constant current design to maintain a constant color temperature and provide full intensity adjustment from 5% - 100%.
Top quality high brightness LEDs are used to ensure long life and high output. The LEDs are color binned to maintain consistency of white color.
Excellent replacement for aging fluorescent ring light systems. Long life >20,000 hrs (typ.) saves costs of replacement lamps.
Note: Due to the highly directional nature of LEDs light, applications involving highly reflective surfaces may require use of polarization or use traditional fluorescent ring lighting ( e.g TLC-9 series).
40 LED ring light with integral intensity controller and polymer housing.

Stereo microscopes

Compact zoom optics systems

Larger diameter lenses

Fluorescent ring light replacement
Ideal choice for:
Industrial manufacturing

Production tools

Laboratories

Biomedical sub-assembly build
40 High Brightness LEDs

Designed for 4"-6" working distance

Integral full intensity controller

Constant current design

Maintains constant color temperature

Dimensions : i.d / o.d /thk = 2.63"x 3.81"x 1.02"

Molded polymer housing

OPTIONAL: Polarizer/analyzer

Made in USA by Techniquip Corp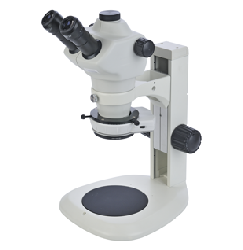 OPTIONAL Polarizer/Analyzer