Nyoptics Inc 2014 - 2017 All rights reserved




SZ645 Series Stereo Zoom Laboratory Microscope
Laboratory grade 6.3:1 stereozoom microscope system. Best-of-class 115mm standard working distance.

Semiconductor

Biomedical

Industrial Inspection
Ideal choice for:
Industrial manufacturing

Forensic and police crime laboratories

Biomedical sub-assembly build

General semiconductor inspection

University science laboratories
6.3:1 Zoom ratio body:

Zoom range 0.8 - 5x

Detents at 1x magnification intervals

Greenough optical design

Parfocal and Parcentric parallel optical paths
Wide range of high quality optics options

Ultra-wide field eyepieces

10x/22

15x/16

20x/12.5

Auxillary Objective choices:

Standard WD = 115mm

Achromat 0.5x / WD = 211mm

Achromat 2x / WD = 43.5mm


The SZ645 laboratory stereo zoom series offers superb optical performance for the most demanding applications. The system is designed using a Greenough parallel optical system for crisp, distortion-free, high-resolution images. The SZ645 series has an air-tight, anti-fungal body design to maintain high quality optical performance in rugged conditions. The SZ645 is available in 45° binocular or 'true' trinocular camera ready models. The trinocular model features simultaneous viewing and camera port operation.
We can also provide complete turn-key specialty systems using our wide selection of stands, stages, highly accurate measurement systems, light sources, and cameras to fulfill your inspection needs.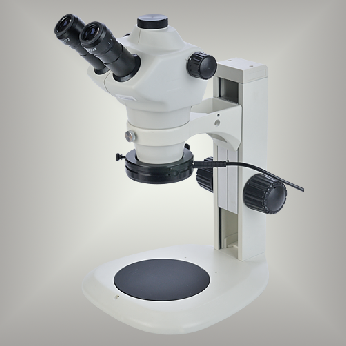 Objective swing-out adapter NYOPTICS Exclusive!
Swing-away objective lense holder:

Allows viewing at 2 different mag. ranges

Ideal for 0.5x and 1x (no lense)

Lense is shielded from dust when not used

Accepts 0.5x and 2x lenses
Trinocular models c-mounts

0.4x for 1/2.5" sensor cameras

0.5x for 1/2" sensor cameras
Many Microscope Stand Options:

Basic table stand

Custom hard-anodize table stand

Boom arm stands

Build to your spec stands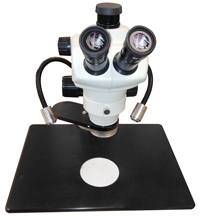 Custom hard-anodized stand with EcoPHOT LED illuminator NYOPTICS Exclusive!