Nyoptics Inc 2014 - 2017 All rights reserved




Microscope Rebuild Services
MICROSCOPE REBUILD RATES (repair parts are additional)
Rebuilt microscopes have a 1 year labor warranty from the date the rebuild was performed. Please note that should a problem arise with the microscope during this coverage period, necessary services will be performed at no labor charge in a prompt manner (the shipping charges are not included in the warranty and would be billable). All parts needed for repairs and maintenance are additional. Exceptions to warranty are for microscope services needed due to abuse, tampering, and drop damage. These are not covered under the warranty and will be quoted and billed separately.
NOTE:
If shipping a microscope for repair please ensure all components are properly protected for shipment. We suggest bubble wrap of the microscope modules (multiple layers), place this in a close fit box, then place this box in a larger box filled on all sides with Styrofoam packing 'peanuts'. This ensures no shifting of the optics during shipment. Do not simply place the wrapped optics in a box of Styrofoam 'peanuts' – damage is almost guaranteed.
Olympus BH stand
Before REBUILD / REFINISH
Microscopes looking old and worn out? Poor image quality and difficulty of use slowing down production areas? We offer complete rebuild services to bring your microscopes to like new condition. We do not just mask off areas of the microscope and spray paint. This can lead to paint over-spray going into the optics and focus mechanisms, that is not a rebuild (barely qualifies as a refinish). We disassemble, mask & refinish, completely rebuild, align and final test before returning to our customer. We can also upgrade your microscope during the rebuild.
Strip and refinish body components

Clean and re-lubricate zoom system using synthetic, long life greases

Clean all internal optical components

Inspect for worn or defective items

Re-assemble
Perform optical alignment: parfocality, parcentration, and overall centration

Verify optical alignment using factory provided reference standards
Strip stand and stage components

Refinish using high-solids Polyurethane paint

Inspect mechanical components of fine and coarse focus mechanism for wear

Clean and re-lubricate focus system using synthetic, long life greases

Digital camera installations

Clean and re-lubricate (using synthetic lubricants) and adjust mechanical components:
- X/Y stage ,coarse/fine focus, brightfield/darkfield controls, field/aperature/filter controls,
camera viewport, interpupillary, and diopter controls.

Inspect and clean optical surfaces (objectives, eyepieces, tube(telan) lense, filters, reticles)

Overhaul the illumination system (see options below)

Align optical using factory provided reference standards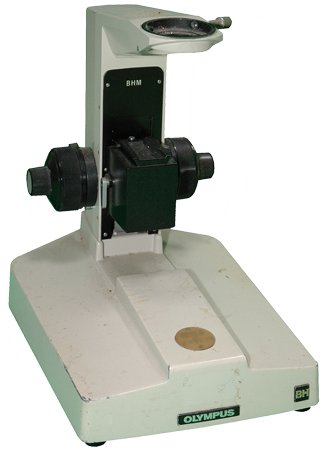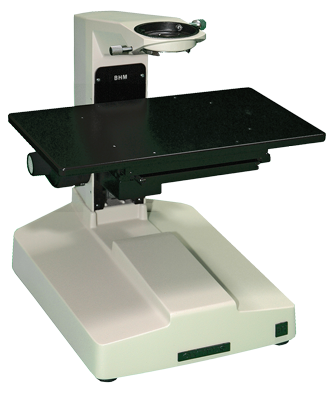 Olympus BH stand
Post REBUILD / REFINISH
Refinish X/Y stage with hard teflon coating for chemical resistance

Sintef™ (hard anodize teflon impregnation) surfaces of aluminum components

Upgrade to larger (some models) or motorized X/Y stages

Upgrade illumination to high output LED (low power consumption, long life)

Upgrade to improved optics (eyepieces, objectives, etc)

Upgrade to X/Y/Z or theta measuring systems in a wide range of resolutions

Upgrade to camera capability (digital or analog)

Provide added features (such as phase contrast, Nomarski DIC, darkfield)
What do we rebuild? We rebuild most makes and models of microscopes. We have been trained on most microscope models from nearly all microscope manufacturers. We are factory authorized OLYMPUS and stock replacement parts for most Olympus and Nikon models. Older and obsolete models are our specialty. We have many repair parts for very old models in our inventory.
Ergonomic modifications

Lighting upgrades; LED, fluorescent, fiber optic, mercury/xenon arc

X/Y stages; travels form 2"x2" to 20"x20" transmitted or reflected light
- Motorized control via PC or joy stick
- Measurement stages with precision leadscrew motion
- Heavy duty toolmakers stages/Y stage ,coarse/fine focus, brightfield/darkfield controls, viewport and
field/aperature/filter controls, interpupillary, and diopter controls.
High precision measurement systems
- X/Y/Z and theta
- Wide range of resolutions; Mitutoyo and Heidenhain

Wafer loader retrofit to existing microscopes 4", 6", and 8" capable

Optics upgrades
- Add additional optical capability; DIC, darkfield, long working distance






Leitz ERGOLUX with replacement focus system
Contact us

with your microscope information and quantities. There are many makes and models of microscopes making it very difficult to provide a fixed general cost. We will be happy to provide you with a quotation at no charge.

We may be able to provide an advanced exchange rebuilt model in some cases depending on current inventory.

Turn-around time is usually 1-2 weeks depending on the services desired.
On-site installation and training is available.

Hours : 8am – 5pm PST (service available all hours: additional charges)
SAVE MONEY. HAVE YOUR EXISTING MICROSCOPES REBUILT for ENHANCED PERFORMANCE